The Divine Comedy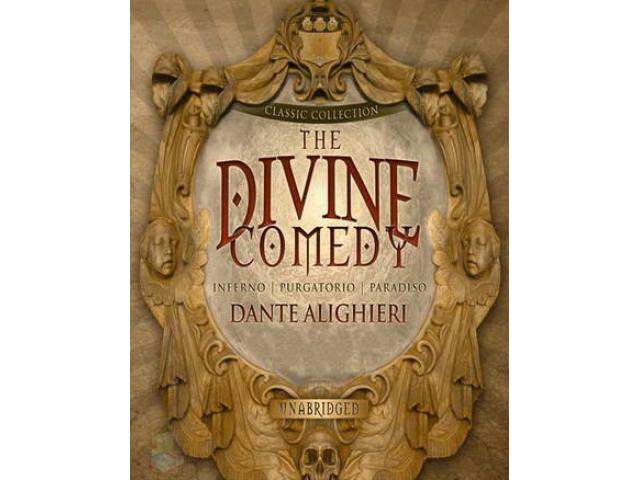 Free Book - "The Divine Comedy"
by: Dante Alighieri
The Divine Comedy (Italian: Commedia, later christened "Divina" by Giovanni Boccaccio), written by Dante Alighieri between 1308 and his death in 1321, is widely considered the central epic poem of Italian literature, the last great work of literature of the Middle Ages and the first great work of the Renaissance. A culmination of the medieval world-view of the afterlife, it establishes the Tuscan dialect in which it is written as the Italian standard, and is seen as one of the greatest works of world literature.
The Divine Comedy is composed of three canticas (or "cantiche") — Inferno (Hell), Purgatorio (Purgatory), and Paradiso (Paradise) — composed each of 33 cantos (or "canti"). The very first canto serves as an introduction to the poem and is generally not considered to be part of the first cantica, bringing the total number of cantos to 100.
The poet tells in the first person his travel through the three realms of the dead, lasting during the Easter Triduum in the spring of 1300.
Audiobook download



DOWNLOAD




You may also like...
The Mysterious Island

The book tells the adventures of five Americans on an uncharted island in the South Pacific. The story begins in the American Civil War, during the siege of Richmond, Virginia, the capital of the Confederate States of America. As famine and death rav...

The Invisible Man

Terrifically popular science fiction novel by renowned writer HG Wells, about a scientist discovering how to achieve invisibility. But, in his case, being out of sight evidently does NOT mean out of mind.

The Call of the Wild

Buck is living a happy life in California until he is sold to pay a gambling debt. Taken to the Klondike to become a sled dog, Buck must toughen up and learn the harsher rules of survival in the North. One of the first of these is how to deal with be...