Introduction to the World Map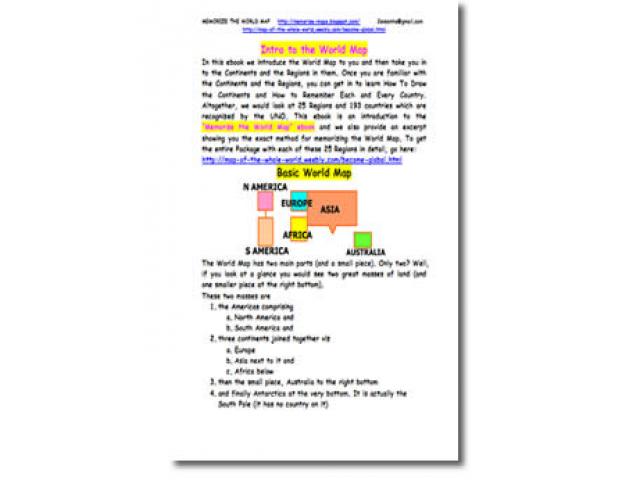 Free Book - "Introduction to the World Map"
by: Siddhartha Sinha
You will get a solid introduction to the Contents of the main Book, 'Memorize the World Map' in this free e-book and would learn a lot about the Continents, the 25 Regions inside these Continents and the exact Mnemonic method by which you would learn to Draw and Memorize the countries of the World. The Main ebook shows how to draw the map of the whole world from memory and how to remember the countries lying in sequence six or seven at a time.
You may also like...
The Secrets of Successful Language Learning

Anyone who is learning a foreign language will not want to miss this free E-Guide. It offers sound, practical advice on how you can acquire excellent pronunciation, expand your vocabulary, master grammar, and engage in conversation in another languag...

The netwriting master's course

The material in The Netwriting Masters Course is extensive in scope. It will require some effort and commitment on your part, as does anything important that yields rewards. Just take the time needed to digest the information properly before you star...

How Do You Design?

Hugh Dubberly's book looks at over one hundred descriptions of design and development processes, from architecture, industrial design, mechanical engineering, quality management, and software development. By reading this you can't fail to learn somet...