Nothing But Flowers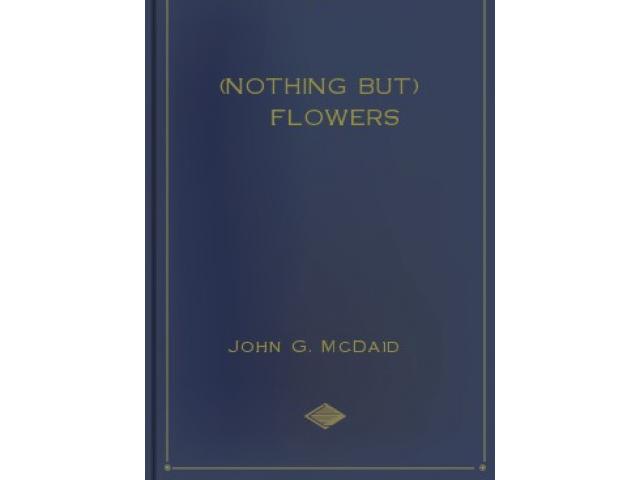 Free Book - "Nothing But Flowers"
by: John G. McDaid
Every afternoon the rains, as they had for generations, swept in from the salt-lands to the west and drove the
scavengers into the shelter of the ruins ringing the lagoon. The sky grayed, and wind, pungent with ozone and
canebrake, flung stinging flights of droplets into the dank concrete holes.
The Fox Man ran from squat to squat, warning. "Big storm coming." He wore an outfit of scraggy orange fur,
scabrous and holed, and as he pranced past, fat raindrops spattered his costume to a blotchy patchwork.
Women set out plastic jugs, gathered utensils, and shoveled coals from cooking fires into logs to hustle
indoors. Naked children danced in the puddles.
You may also like...
Attack Of The 50-foot Verbose Mutant Killer

Attack Of The 50-foot Verbose Mutant Killer Fountain Pens From Mars. IN THE BEGINNING THERE WAS... A WORD OR THREE FROM OUR SPONSORS... Penning The Altered States Hunters Of The Untamed Idea Dance With The Muse And Write To Dissent It Just Got Harder...

Crying Blood

Amelia is an assassin on the run. She often wishes her life had somehow taken a different turn. She never wanted to be a killer. Eventually, she will die by the violence that ruled her life. She just isn't sure if she'll die by the hands of the m...

Surviving the Fog

Have you ever been to summer camp? What would you do if almost all of the adults left "for a few hours" and they had not returned a week later? What would you do if no one's cell phone worked and your parents never showed up to take you home? This ...