Attack Of The 50-foot Verbose Mutant Killer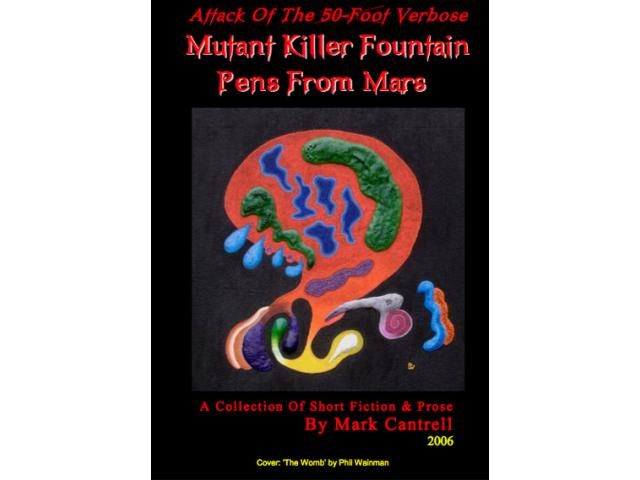 Free Book - "Attack Of The 50-foot Verbose Mutant Killer"
by: Mark Cantrell
Attack Of The 50-foot Verbose Mutant Killer Fountain Pens From Mars. IN THE BEGINNING THERE WAS... A WORD OR THREE FROM OUR SPONSORS...
Penning The Altered States Hunters Of The Untamed Idea Dance With The Muse And Write To Dissent It
Just Got Harder! Primal Expression Don't You Dare Publish My Collected Works!
THE STORY WAS... THAT AFTER THE FRIVOLITY... THERE CAME...
A Walk In The Woods The Ghost Of Sarajevo The Rise & Fall Of Sisyphus Sinners In Streaming Video Joe's
Last Meal Time Changeth The Man You Looking At Me? - The Almost True Story Of Paddington Bear
Shopping For Katie Nathan's Friend To Heal The World Deadly Night Shade
You may also like...
Crying Blood

Amelia is an assassin on the run. She often wishes her life had somehow taken a different turn. She never wanted to be a killer. Eventually, she will die by the violence that ruled her life. She just isn't sure if she'll die by the hands of the m...

Surviving the Fog

Have you ever been to summer camp? What would you do if almost all of the adults left "for a few hours" and they had not returned a week later? What would you do if no one's cell phone worked and your parents never showed up to take you home? This ...

Trouble Brewin'

Catherine Brewer, (age unspecified, but somewhere between, say, 13 and 15) tries to trick her parents into letting her stay home from school in order to avoid a boring excursion to an old people's home, called Passing Winds. The attempt fails miserab...